VELOCITY NEXT TOURNAMENTS
Fight Night at Velocity - Tuesdays
NEXT LEVEL GAMING, NEXT LEVEL FUN!
Fighting Games Communty Night 5:00pm – 10:00pm
Casual FIghting Game Play $8
Player Food & Drink Specials
$10 Entry ($5 Venue Fee, $5 Prize Pot). Check in / Registration at 5:00pm, Tournaments at 6:00pm. Guaranteed $50 pot (min 6 players). 1 V 1 Tournament Play. * Titles may vary by location.
LAS VEGAS: Super Smash Bros. Ultimate (Switch) + Street Fighter 6 (PS4)
6587 S Las Vegas Blvd #171, Las Vegas, NV 89119
NEWPORT/CINCINNATI: Super Smash Bros. Ultimate (Switch) + Street Fighter 6 – 1 Levee Way, Suite 2130 Newport KY 41071
For more information and to register for the tournaments, Join the Velocity Esports Discord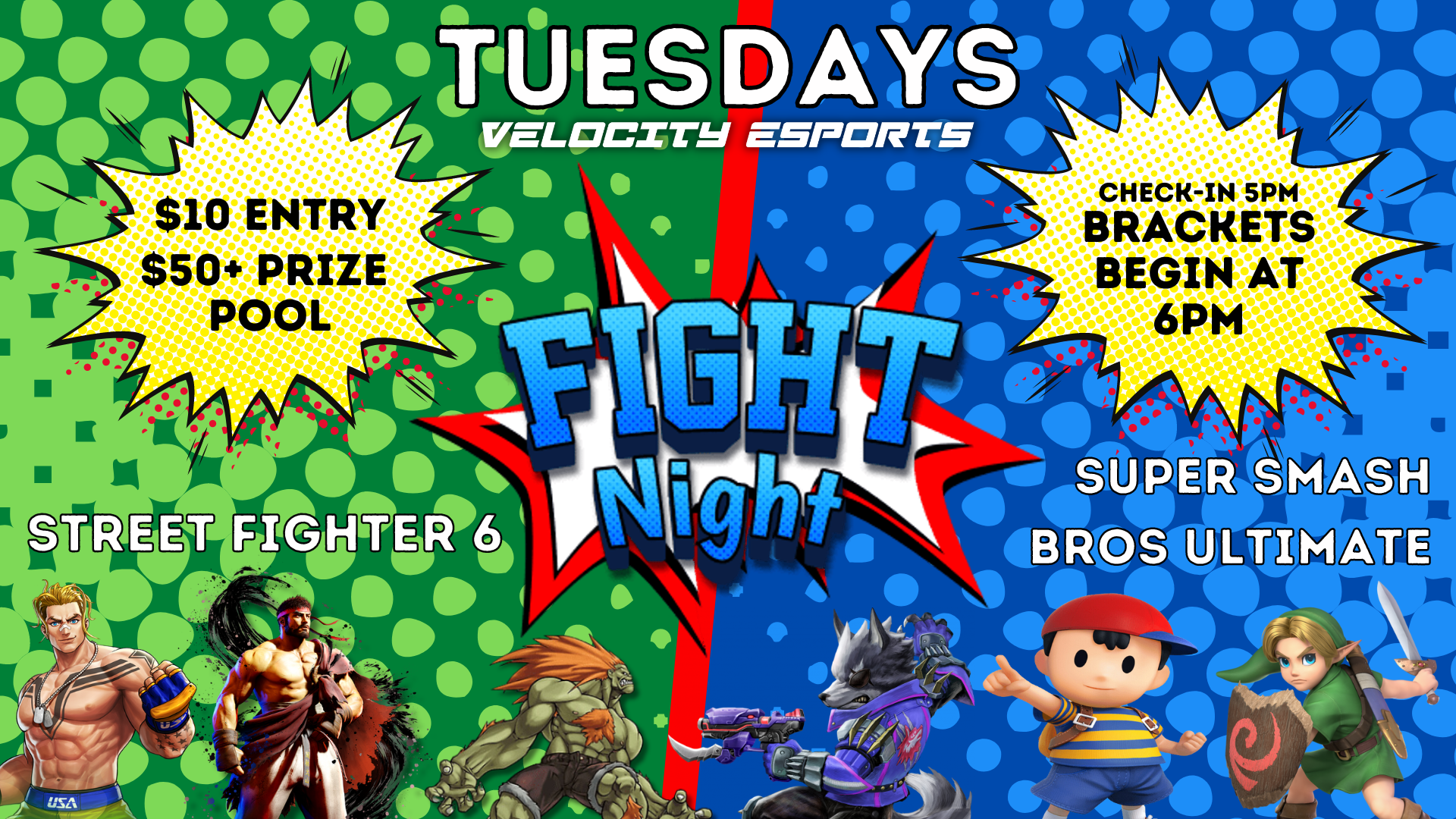 Sports Night at Velocity - Mondays
NEXT LEVEL GAMING, NEXT LEVEL FUN!
Sports Night at Velocity – Mondays
Sports Games Community Night 5:00-10:00pm
Casual Sports Game Play $8
Madden, NBA 2K, FIFA, MLB The Show and more!
Player Food & Drink Specials
Compete in Madden 23 and NBA 2K23 Tournaments
For the most up to date sports tournament schedule, Join the Velocity Esports Discord:
https://discord.gg/u2GnjgbGtZ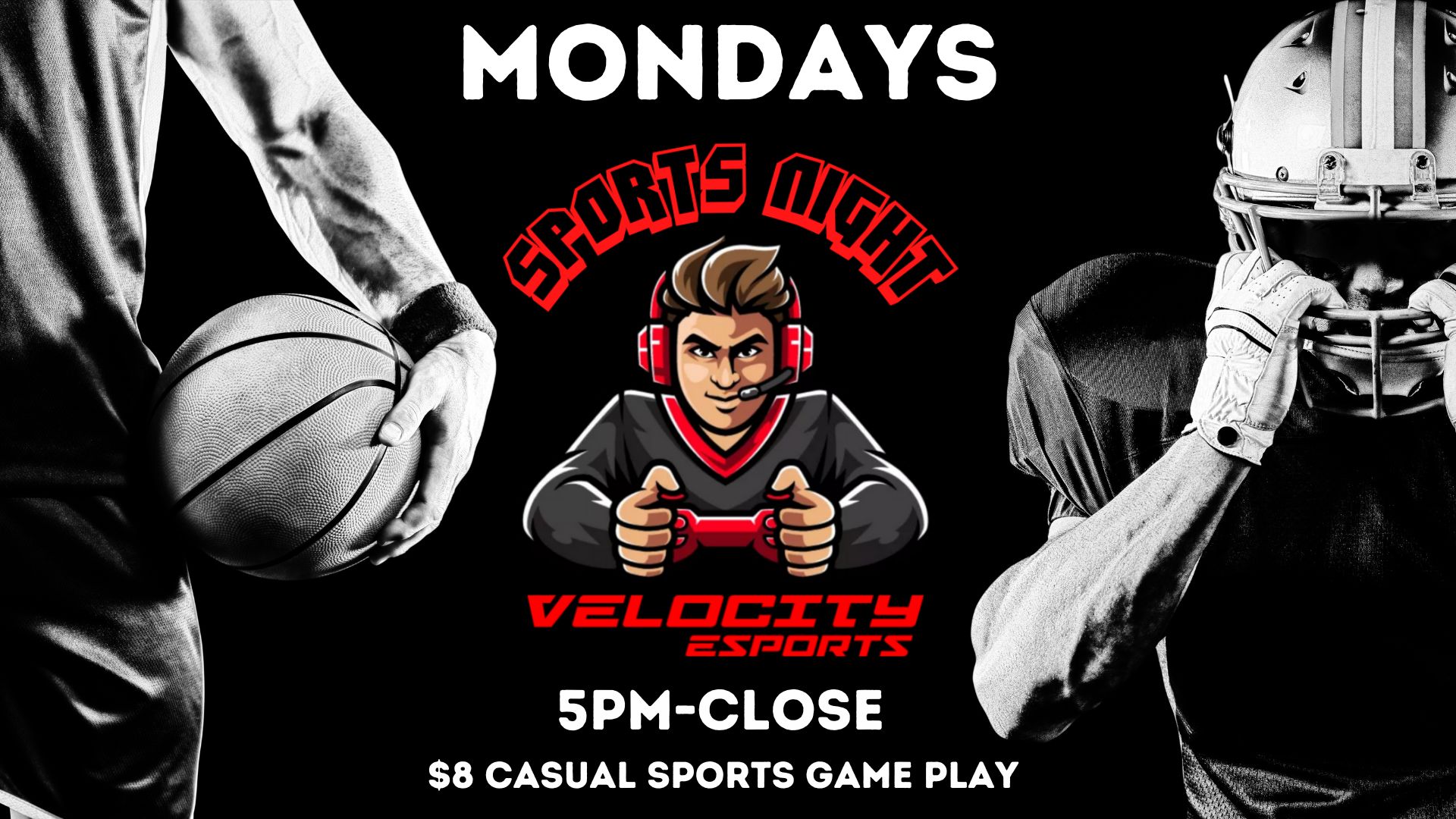 12/17/22 - Las Vegas Inferno competes in tournaments / builds community at Velocity Esports Las Vegas
Article

Are you looking for a place to enjoy esports league tournaments with your friends? If so, you should visit Velocity's esports lounge. Our esports lounge is a gaming hub where you can watch and play the latest and greatest esports games on high-end PCs and consoles.
Our esports lounge offers a variety of services and amenities to make your gaming experience unforgettable. You can rent our gaming stations by the hour or by the day, and access hundreds of games from different genres and platforms. You can also join our weekly esports tournaments and community nights, and enjoy food and beverages specials.
Our esports lounge hosts regular esports league tournaments for different games and skill levels. You can sign up for our tournaments online or in person, and compete for cash prizes and bragging rights. You can also watch live streams of major esports tournaments from around the world on our big screens and projectors.
If you are a fan of esports, you don't want to miss our esports lounge. Come and visit us today and see for yourself why our locations in Las Vegas and in Newport / Cincinnati are the best place to enjoy esports leagues and esports tournaments in our areas.