Fight Night at Velocity - Tuesdays
Fighting Games Communty Night 5:00pm – 10:00pm
Casual FIghting Game Play $8
Player Food & Drink Specials
$10 Entry ($5 Venue Fee, $5 Prize Pot). Check in / Registration at 5:00pm, Tournaments at 6:00pm. Guaranteed $50 pot (min 6 players). 1 V 1 Tournament Play. * Titles may vary by location. 
LAS VEGAS: Super Smash Bros. Ultimate (Switch) + Street Fighter 6 (PS4)
6587 S Las Vegas Blvd #171, Las Vegas, NV 89119
NEWPORT/CINCINNATI: Super Smash Bros. Ultimate (Switch) + Street Fighter 6 – 1 Levee Way, Suite 2130 Newport KY 41071
For more information and to register for the tournaments, Join the Velocity Esports Discord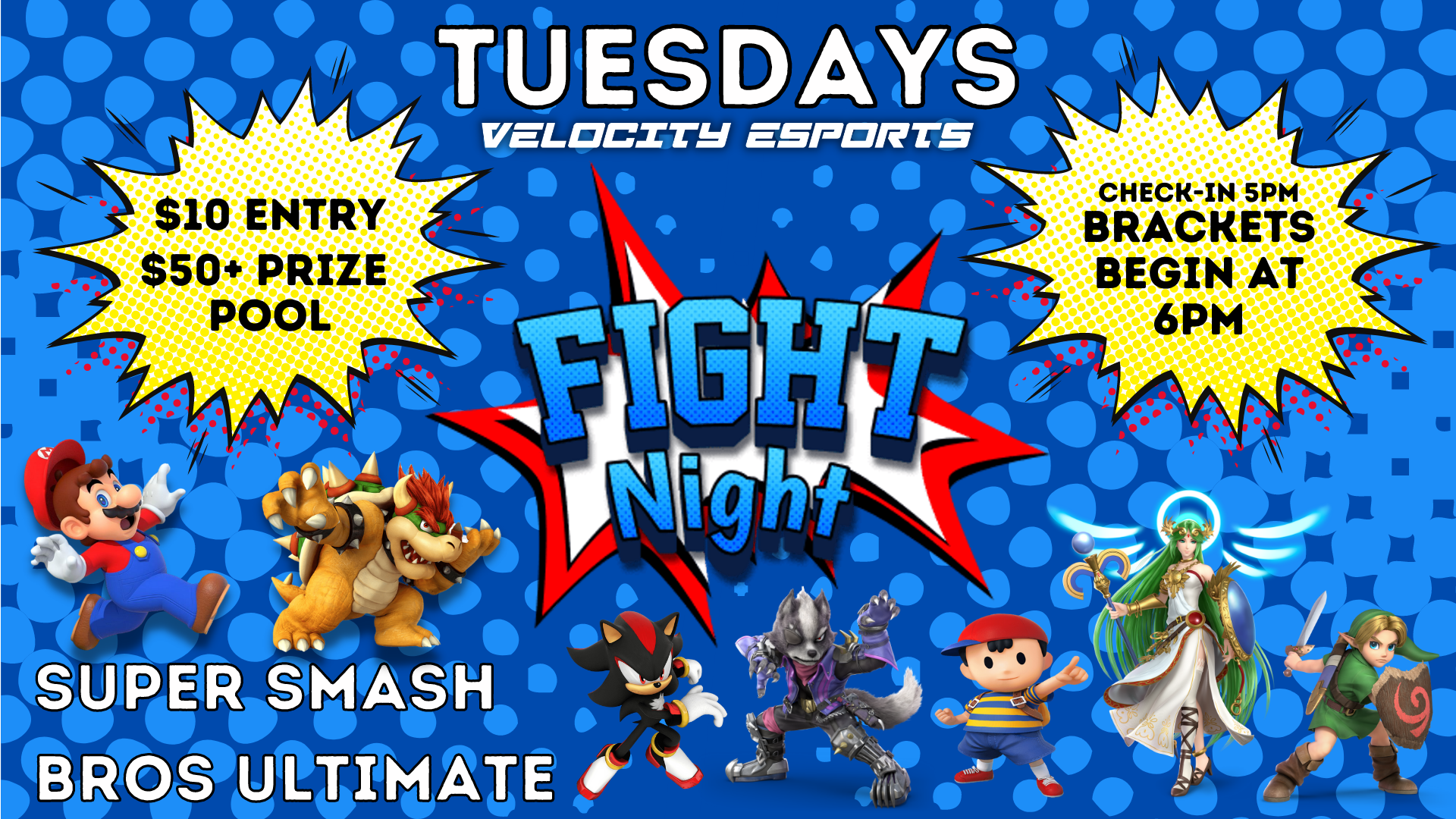 Sports Night at Velocity - Mondays
Sports Night at Velocity – Mondays
Sports Games Community Night 5:00-10:00pm
Casual Sports Game Play $8
Madden, NBA 2K, FIFA, MLB The Show and more!
Player Food & Drink Specials
Compete in Madden 23 and NBA 2K23 Tournaments
For the most up to date sports tournament schedule, Join the Velocity Esports Discord: https://discord.gg/u2GnjgbGtZ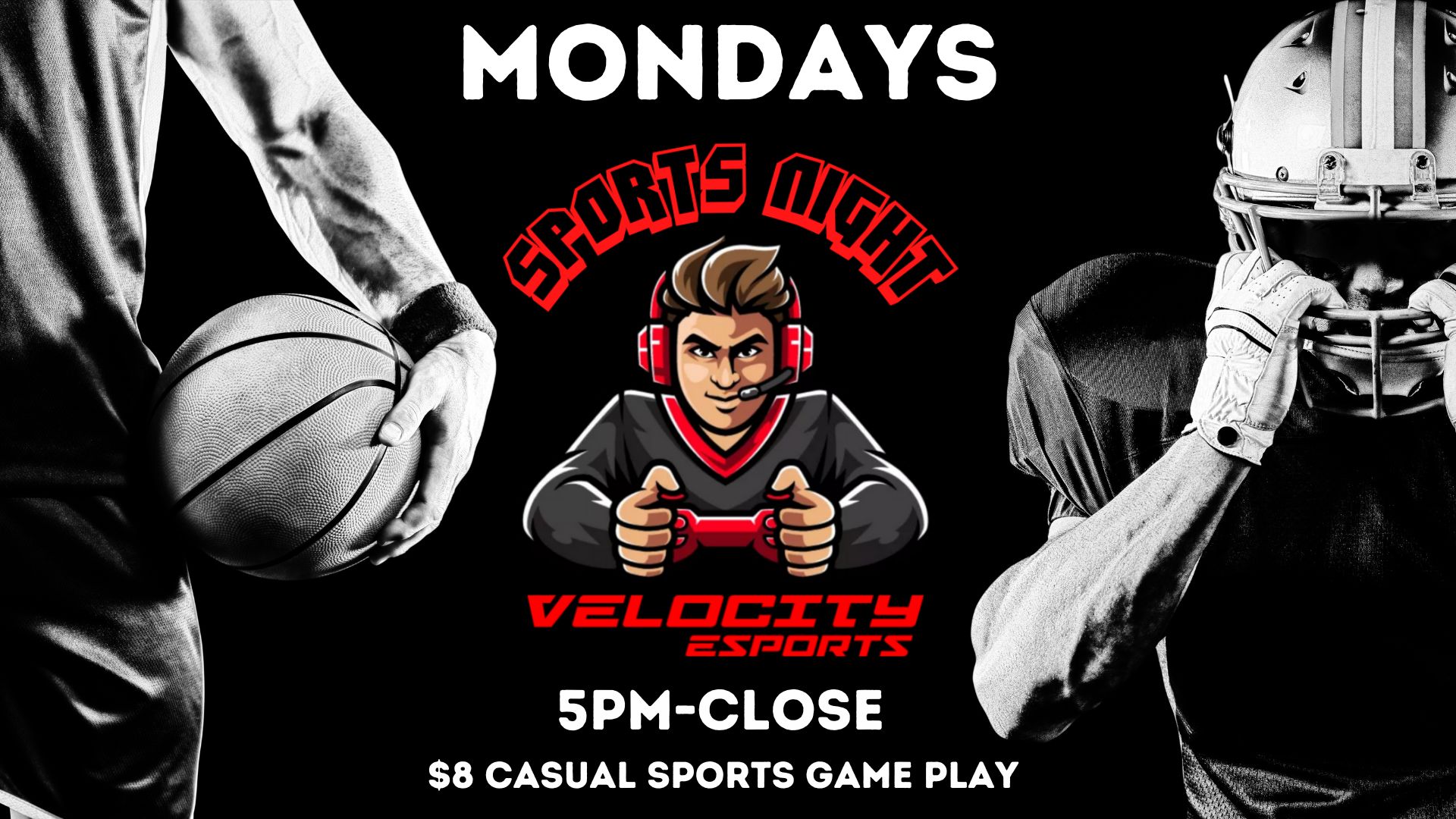 Throwback Thursdays
Throwback Thursdays 5:00pm – 10:00pm
Replay the Classics on Nintendo Switch for only $8
Choose from 100+ classic NES, Super NES, N64, Gameboy and SEGA Genesis games.  
Compete in online matches for Tetris 99, PAC-MAN 99 and more!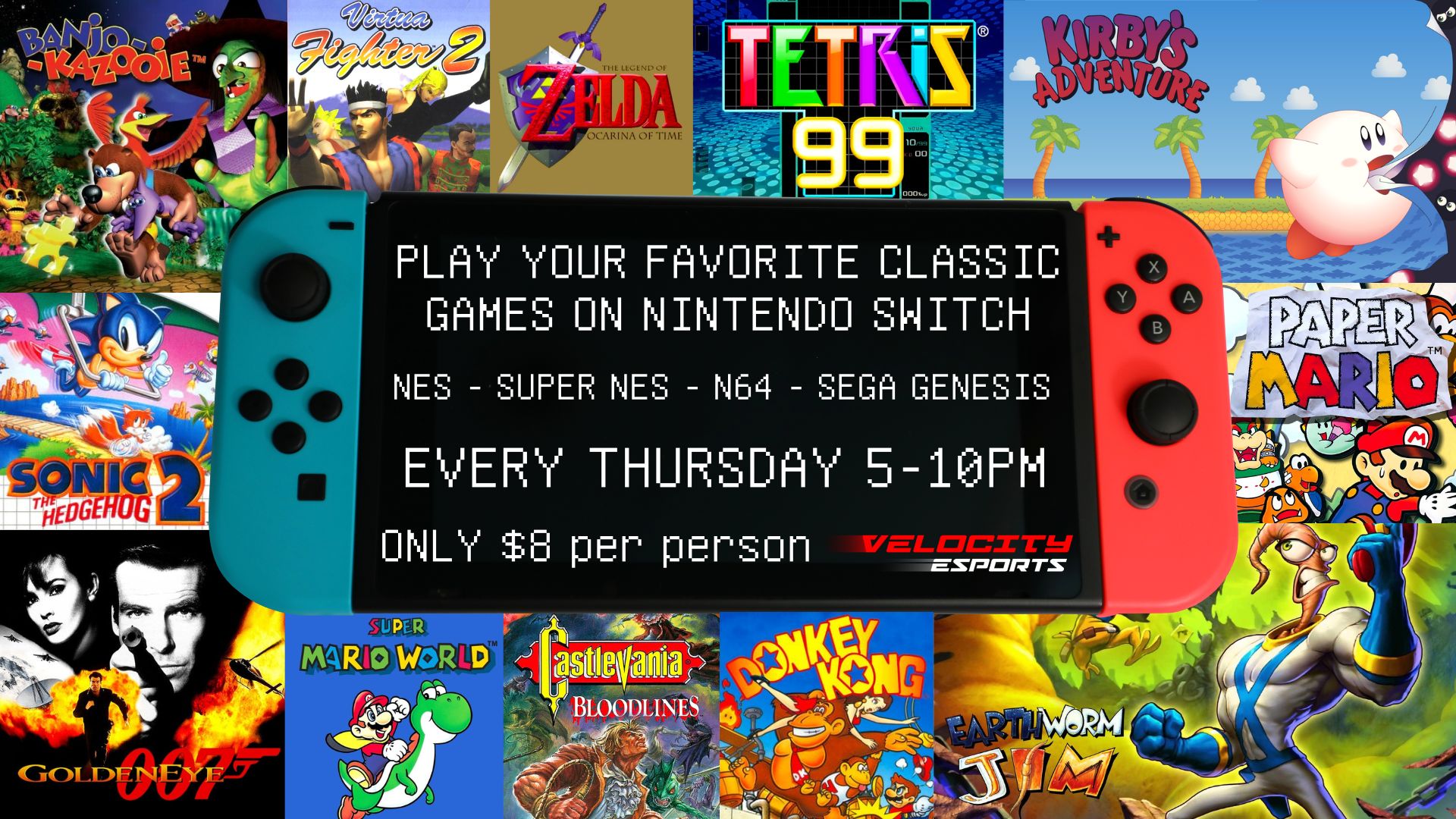 Next Level Wednesdays - $4, $5, $6 Menu Items after 7:00 pm!
The party begins on Wednesday! "Next Level Gaming, Next Level Fun" featuring $4, $5, $6 offerings after 7:00 pm! Serving delicious offerings from Velocity Esports Bar & Grill, and 1 Hour Game Play with access to  our Arcade, Esports Lounge and Social Gaming Lounge!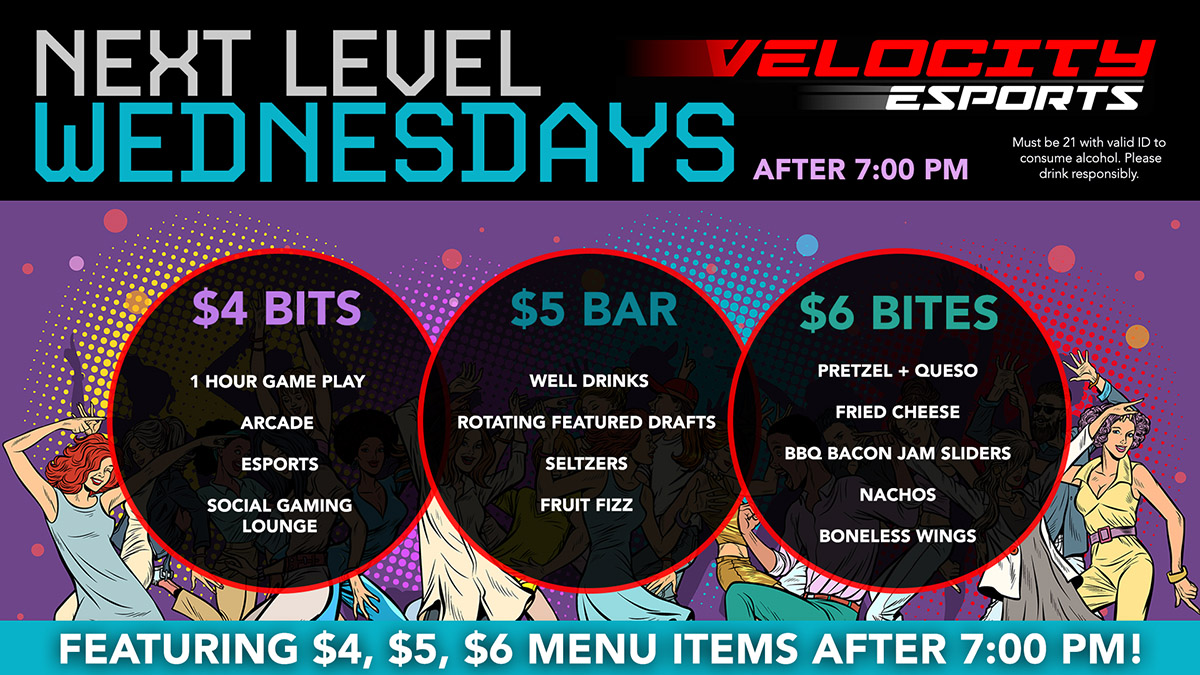 Happy Days - $6 Menu Items from Monday - Thursday until 6:00 pm!
Mondays thorugh Thursdays until 6:00 pm! Hand stretched Cheese pizza (additional toppings $1.69), Rotating featured drafts and Drink specials featuring the Velocity Margarita!
Chicken Quesadilla  |  6 Wings  |  Add a side for $3 – Garden Salad or Fries  |  Barefoot Wines  |  Velocity Margarita  |  Veloci(tea)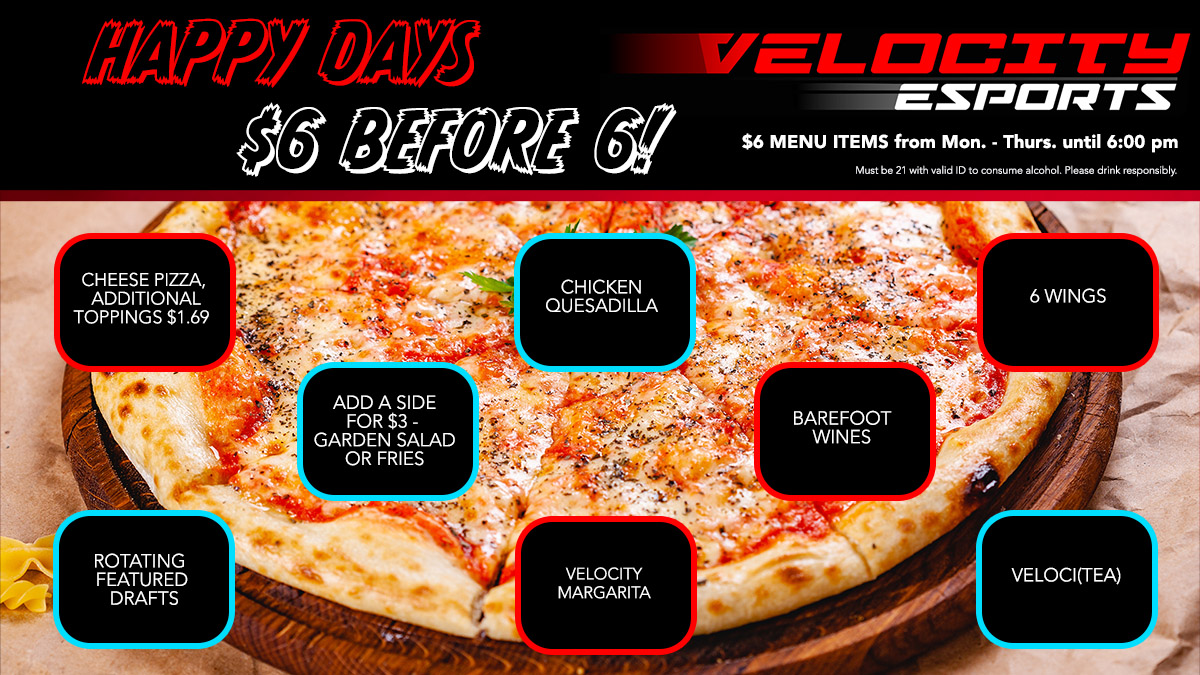 Active Military + Veterans + First Responders Discount
20% Off Food & Games Every Day. Must present valid Military ID or First Responders ID. We honor our veterans and first responders!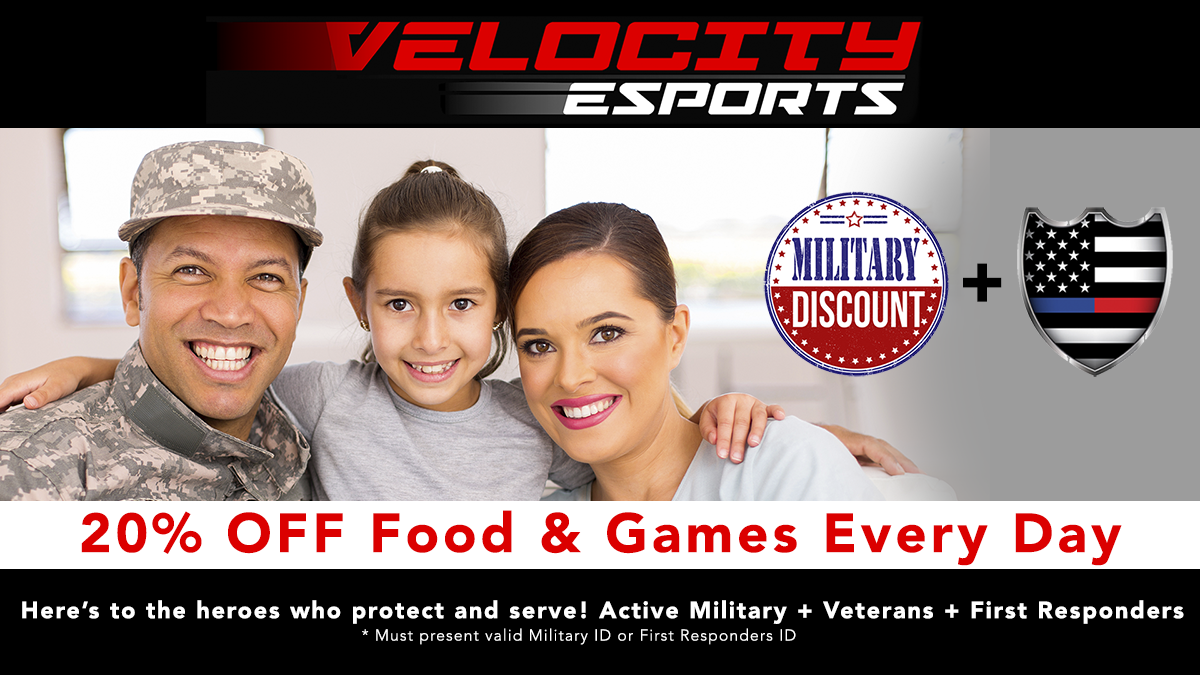 ARCADE GAMES AND PRIZES
Enjoy our vast selection of arcade games and redemption games. Test your skills on classic or the newest video games. Play our redemption games and redeem tickets for prizes - choose from a great selection of hundreds of popular prizes at the Velocity Next Level Prize Store.
More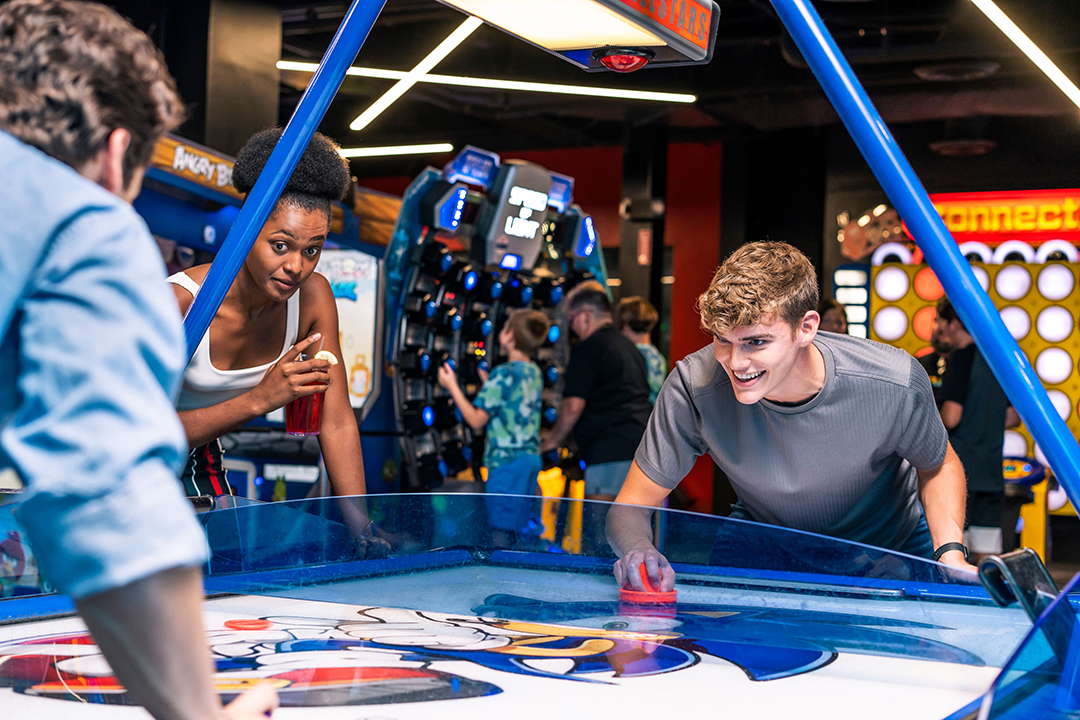 NEW: Bowling at our Newport Location - Rotolo by Velocity
Rotolo by Velocity is a boutique bowling alley with plenty of fun to go 'round. A license for indulgence and bowler's paradise, Rotolo by Velocity takes a modern spin on the traditional bowling alley, where it features two full-service bars and 68 seat restaurant, 16 state-of-the-art bowling lanes, a full bocce court, billiards, foosball, life-size checkers, and plenty of lounging and patio spaces to kick back, relax and enjoy this sweet escape. You deserve it. Rotolo by Velocity - 1 Levee Way Suite 1112 Newport, KY 41071 +1 859 652 7250
Learn More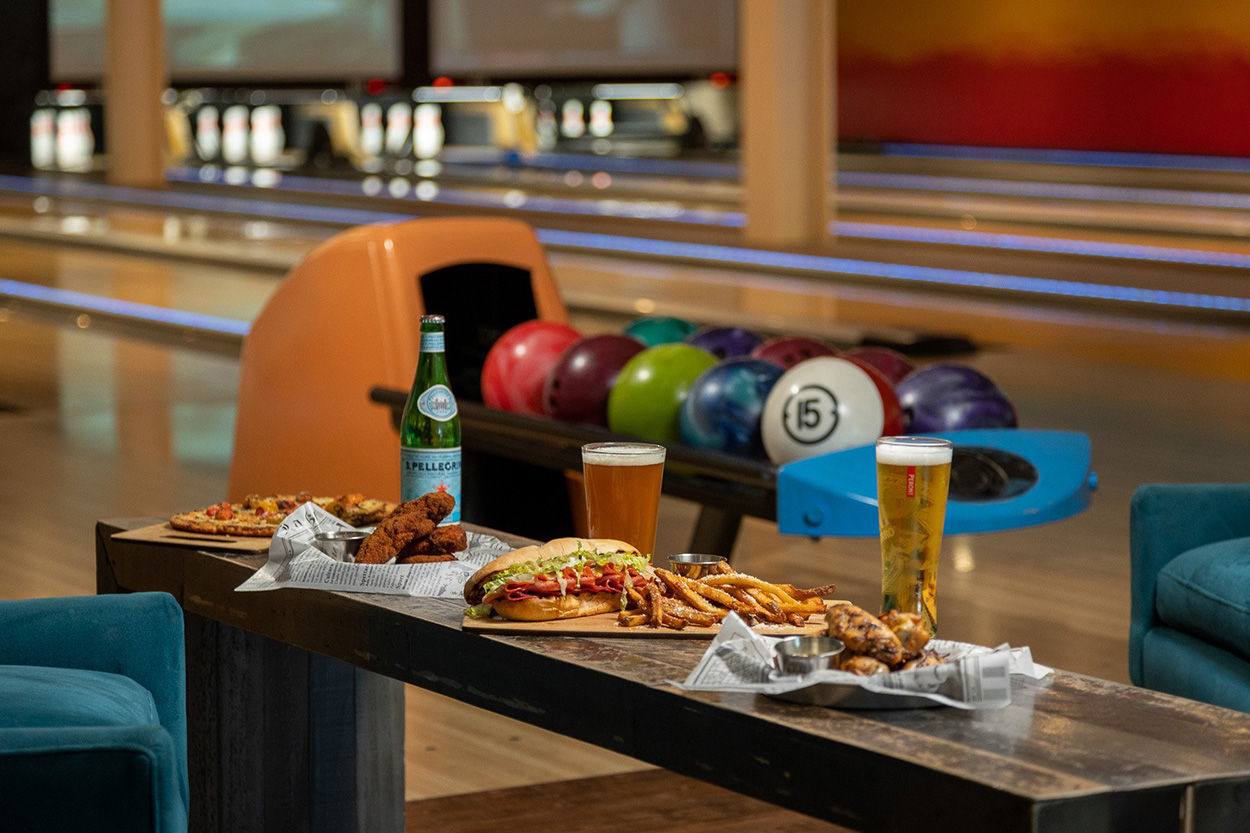 Bowling at our Las Vegas Town Square location
Enjoy 8 lanes of bowling at our Velocity Esports Las Vegas Location. Great for birthday parties, corporate events, team building events or just a fun night out with family and friends! And you can enjoy our vast selection of arcade games, social gaming lounge and esports lounge under the same roof. Visit us at: 6587 S Las Vegas Blvd #171, Las Vegas, NV 89119Parking: FREE outdoor parking at the Towne Square Mall.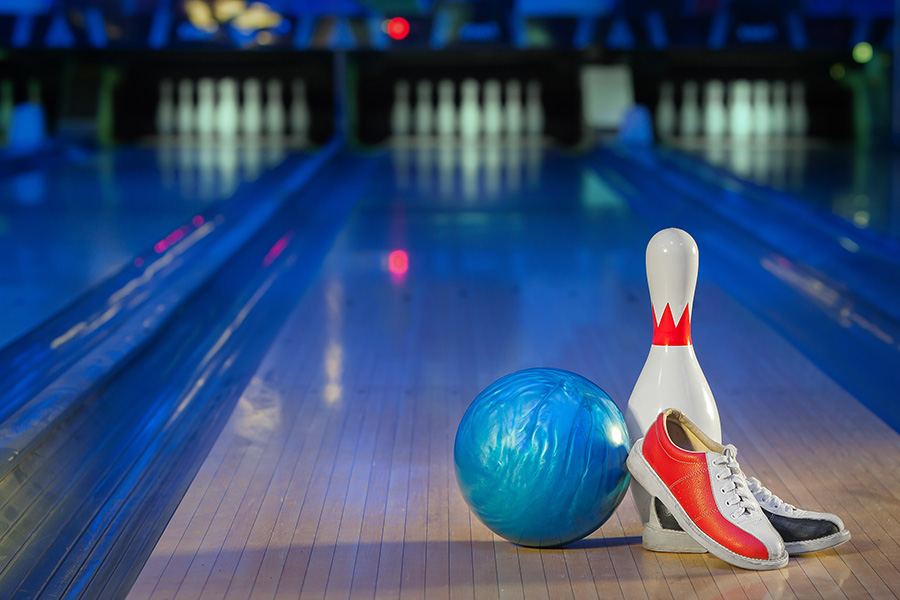 The Velocity Esports Next Generation Gaming Experience
As a next generation gaming and entertainment company, Velocity offers a vast selection of arcade games near you, premier esports lounges, bowling, billiards lounges, table games, esports tournaments and other in person entertainment features. Whether competing in a tournament, having a fun night out with family and friends,  or enjoying elevated casual dining, craft beverages and arcade games in person at one of our venues, our commitment is to deliver "Next Level Gaming, Next Level Fun" to  our guests of all ages. Velocity Esports is your home for gaming for casual gamers, serious competitive gamers or esports enthusiasts.  Velocity is much more than just an amazing arcade near you – it's a next level entertainment experience with something for everyone. Velocity's entertainment center is the perfect destination for your next event or party.  Whether it's a corporate event, team building event, arcade event, bowling party, esports party, holiday party, kid's birthday, adult birthday, youth event, social event, or venue buyout, if you can dream up your event, we can help make it happen!
Velocity is the ultimate entertainment destination. Our locations feature state-of-the-art esports lounges with the latest technology and professional level gaming chairs, a vast selection of arcade games near you, billiards lounges, prizes, 100+ esports titles, and a fresh take on modern American and Mexican classics and craft cocktails and mocktails at our arcade near you. At select locations (Las Vegas and Newport/ Cincinnati), we will also offer additional entertainment options such as the unique boutique bowling experience at Rotolo by Velocity. Our top priority is to consistently deliver on our brand promise – Great Games, Great Experience, Great Community.
Book your next event at Velocity